Derby County's Under 18s side are into the quarter-finals of the FA Youth Cup after a stunning 2-0 win over Manchester City's Under 18s side, which reportedly cost around £7 million.
Rams fan Thomas Few was at the game and on hand to send in his verdict:
The  Rams' Under 18s took on a vibrant Manchester City side on a bitterly cold Tuesday night at Pride Park Stadium, and came out on top, therir sixth win in as many games. The win was watched by over 1,200 Rams fans, who will be looking forward to the quarter-final home game against Chelsea.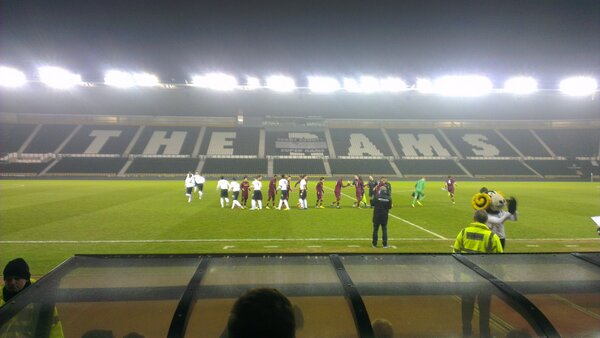 I was extremely impressed by all of the young prospects at Pride Park, who out played a costly Manchester City side, with Marcos Lopes in the starting line-up for City, who was believed to have cost  them around 1 million pounds.
The starting line-up consisted of the widely known Mason Bennett, and also the rising star of Josh Lelan. Jamie Hanson, who was an unused substitute for the Rams on Saturday against Watford, was also among those in black and white. Will Hughes was only present in the stands, after an injury saw him unable to play.
Derby started off the better side, with good tempo and steady build up play, which put City on the back foot, after some very energetic and fluid football from the Rams. They operated a 4-5-1 formation, with Thomas as the lone striker, and Wixted down the right side, and Bennett down the left, leading to most of Derby's chances coming from both sides. On the 8th minute, a beautifully weighted ball from Wixted was played into Mason Bennett's path, as he sprinted past Bossaerts, and just failed to get his shots on target, as it fizzed of the bottom left post. However, Derby carried on with the high amount of pressure and almost opened their account in the 12th minute when Wixted cut inside and fired just wide of the top left upright.
After Derby's brilliant start, City managed to get back into the game, after some great play by Lopes. On 19 minutes City got their first real chance of the game, when midfielder Bytyqi shot miles over the bar from a partially cleared City corner, where you really sensed he should have done better. The game then quietened for the next 10 minutes, as both teams were involved in a midfield battle for position. On 30 minutes, Sharpe had a huge throw into the box almost converted from Bennett's half volley, which just went wide of the near post. Then just 4 minutes later, a long ball from the Rams saw a flick off a City player's head, and it almost crept in the near post, with Ian Lawlor in the City goal beat. The teams then went into half time at 0-0 with the Rams having dominated most of the first half.
As the played came out for the second half, their confidence was easily displayed, as they scored in the 47th minute. After a darting run from Bennett down the left saw a low ball into Thomas who fired a shot from 5 yards at the City goal, Lawlor managed to parry it away, however it landed straight in the path of Wixted, who slotted home from 6 yards. The Man City side then looked to get back into the game, as Lopes dropped into a more central midfield role, and midway through the second half, the pressure from City led to their first shot on target, as Bryan's close range effort was saved by Derby 'keeper Etheridge at his near post, forcing him to concede a corner kick.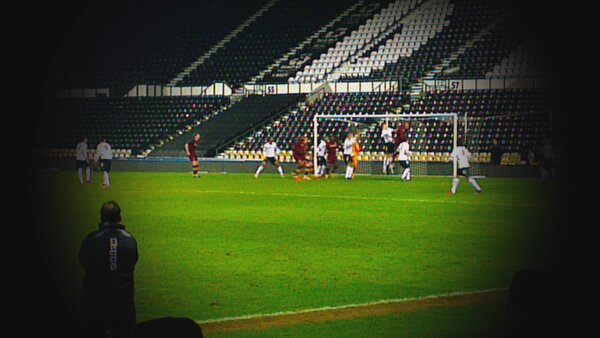 At around the 80th minute, controversy struck, as City forward Pozo La Rosa was seen to have stamped on Hanson in an off the ball incident. I was sat just above the away team's dug out, and although I did not see the incident, I did hear Wassall (the Derby Academy boss) ask his assistant what had happened, and when he found out, he quickly turned and asked the City coach Attilio Lombardo (who had gained 19 caps for Italy in his footballing carer) to have more control over his players. The ref then discussed the incident with the linesman, and then showed La Rosa the red card, thus crushing any chance of an equaliser for City. Then, with just 10 minutes left on the clock, Hanson curled a free kick, from 25 yards out on the right, into the bottom right corner, with Lawlor almost managing to tip the well struck effort around the post, however he failed to, as the ball ended up in the back of the net.
For me, there were 3 stand-out young prospects from the game, these were:
Josh Lelan- He won every header and was never left on the back foot, he was extremely composed and looked like a true leader.
Kwame Thomas- As a tall striker, he managed to win virtually every header, and hold up play whenever it was needed, he also looked lethal in front of goal, and looks like an ace player who can still put pressure on defences when up front by himself, he did not look isolated at all.
Mason Bennett- You can really tell why he plays in the first team from time to time, as his pace and trickery caused many problems for City down the left, his touch was also immaculate, and looked like that of Will Hughes of time.
Overall, it was a brilliant evening fixture, and a very exiting one to, that will see Derby face Chelsea in the quarter-finals of the FA Youth Cup. I would also like to say thanks to Nathan for allowing me to write this article for him, cheers, Tom.
What a victory for Derby County. It really is fantastic to know that the players behind the senior players are not only progressing but also excelling on the big stage. It's certainly now not unreasonable to say that Derby can make it further in the competition based on this result.
Here's a list of the sides already through (in no particular order): Derby, Chelsea, Norwich, Everton, Bolton and Forest. Fifth round ties yet to be played: Hull V Leicester and Liverpool V Leeds.
On a final note, I'd like to thank Tom for this brilliant article.
Up the Rams!