Here's my monthly post on recent away days, gathering supporters' thoughts on ground visits. This is the article that is all about the fans and their thoughts as they follow Derby around the country.
Brighton & Hove Albion 2-1 Derby County, AMEX Stadium 12.1.2013
The loyal Derby supporters travelled south to watch their team in action against Brighton in hope of the Rams picking up their first points on their travels in the calender year. Unfortunately it wasn't to be, two first half goals from Barnes and Orlandi was too much for Derby, despite Jeff Hendrick scoring to make it three goals from three games for his goal tally.
Pavinder Samra attended the game and sent in his thoughts.
Overall Day: 6.5/10 For ticking off a new ground and general day 6.5. The result and performance was the main factor pulling it down, oh and the dodgy hot dog that the catering staff wouldn't change.
Derby Support: 7.5/10 Mainly for the numbers that came down, especially after Christmas. No atmosphere though, I think the early goal might have had a factor to play. There was more bickering over team selection rather than getting behind the team. More atmosphere after the game for those who stayed for a beer, highlight was the rendition of 10 Forest bombers.
Ground Atmosphere: 7/10 No real banter with home fans, but the acoustics made them sound louder than they were. It's something that needs to be looked at Pride Park, hopefully the singing section behind the South Stand will help. When the home fans got behind them I could really here it, the noise carried around the ground.
Stadium Overall: 7/10 It was a pain to get to, but it's a decent new stadium. Padded seats is a first this season. It held the noise well, stewards weren't normal jobsworths. I liked the way they encouraged fans to stay behind and avoid the rush of getting the train back to town. It's a good use of facilities and they had the scores come in, maybe this is something GSE need to look at in terms of revenue generating. GSE are supposed to be American and understanding of looking after fans, catering at Pride Park is shocking (rant over)!
Tom Anderson (or Boz, as he is nicknamed) made the journey and got in touch, here's his thoughts.
How do you compare the ground to Pride Park?
It's a cracking ground to be honest, their main stand to the left of the away end is superb. The ground looks a bit unfinished in the corners and such but to be fair it's new.
What did you think of the Rams' performance?
The first half was awful really, I'm surprised we didn't concede more and we seemed to be playing too negatively. The second half improved majorly and we were unlucky to get a point based on how we came out after the break. We pushed on and nearly sneaked an equaliser near the end.
Where did most of the stadium's atmosphere come from – home or away end?
Definitely the home fans, for periods all 3 stands were singing and it was deafening, even if it was just 'Albionnnnnn, Albionnnnn'.
Derby fans were dreadful, there was about 3 rows at the back making an effort to make some sort of noise with the other 1000 or so sat down in silence. Pretty embarrassing to be completely honest.
Flagwatch
The supporters' trip to the seaside wasn't without the giant flag, which follows the club up and down the land. In this photo (below) it's being surfed by the fans.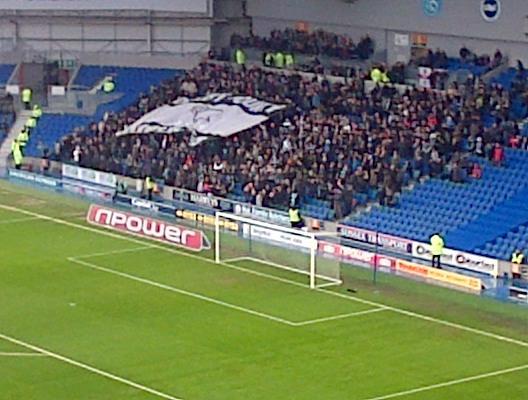 Janaury has only brought us one away day so I thought, as well as focussing on the trip to Brighton, I'd interview a couple of supporters on their memories of following the Rams.
Jonathan Rodgers has plenty of views on the away grounds he has visited.
What's your favourite ever away day?
I'm presuming I can't give the 2007 Wembley play off final as my answer for this one but that experience was just amazing, probably the best ever day I've had as a Rams fan (so far) even though we were stuck in the corporate section surrounded by West Brom fans.
Most of my away days as a Derby fan were in the mid to late eighties when I was a teenager, it all seemed like one big adventure back then. I think the best away day for me must have been the 2-1 victory over Sunderland in February 1987 at Roker Park. This was the season we won the second division championship and we were a damn fine  team back then. I remember Roker Park as an atmospheric, traditional ground with massive steep terraces. The journey up there and back, on a dilapidated old Inter City 125 train, was fantastic. Baiting Sunderland boss Lawrie McMenemy (who resigned a few weeks later) was good fun too.
What's the best stadium you've visited?
This has got to be Anfield, I will never forget being thrashed 4 nil there on a cold night at the start of the 1988-89 First Division season. Beardsley, Aldridge and Barnes ran riot that night. In recent times, the ground I've been most impressed with is Man City's Etihad Stadium. But I suppose that doesn't count as I went there with my Watford supporting other half for the recent FA cup game. Maybe I'll visit that ground as a Rams fan some day.
Which of the stadiums visited has been the worst?
That has to be Wimbledon's Plough Lane, which appeared to be comprised of little more than a series of random shed like structures. An honourable mention must go to Millwall's original Den. Crumbling terraces populated by Neanderthals. Probably the most intimidating experience I've ever had inside a football ground.
Darren Walker was also on hand to give his views.
What's your favourite ever away day?
It's an obvious one, but it has to be the 'ten men' game at Forest. Those games are always full of tension, and to be honest, I always go with very little expectation of a positive result. Until we finally managed to win there for the first time in my lifetime with an amazing 3-2 comeback win I honestly never thought we'd manage it, then we did it again a couple of weeks later! 
This game came after we'd been humbled 5-2 there the previous season and again I was not optimistic, and within the first minute we were down to ten men and 1-0 down.
Every Derby fan knows what came next. Football is never better than when it delivers the unexpected, and gives you joy for adversity. If it's at your local rivals, it's even better still.
What's the best stadium you've visited?
The 'best' stadium would probably be The Emirates for facilities, location etc but my favourite ground to visit as an away fan has always been Oakwell, Barnsley.
Back in the 90s the huge terrace behind the goal filled with thousands of Rams fans always delivered a great day out, and taking 8,000 there in our most recent promotion season was a special memory too.
Which of the stadiums visited has been the worst?
For atmosphere (or lack of), the Ricoh Arena at Coventry, hands down. It is always absolutely dead. For facilities and the fact it's miles away, probably Portsmouth. Outside toilets, leaking roof and very low view of the action don't help but you can make a fair noise there.
If you ever want a look back at previous editions of Rams On Tour, view the archive by CLICKING HERE. Finally, I'd like to give a huge thank you to all the supporters who contributed to this month's edition of Rams On Tour.
Twitter- @NMtherams