I ask fans their views on the away grounds visited in a month. The games against Huddersfield Town and Nottingham Forest are featured in this edition.
Huddersfield 1-0 Derby, The John Smith's Stadium (Glapharm Stadium)  15.9.2012
The Rams were defeated 1-0 by Simon Grayson's Huddersfield Town, but did deserve at least a point for their efforts in the game. Danny Ward's goal after just 47 seconds was enough for The Terriors.
Here's Rams fan Ashley Chapman's thoughts on the away day.
Overall day- 8/10
Derby Support- 10/10 Didn't stop cheering and chanting for the whole game.
Ground Atmosphere- 7/10 Purely because the Huddersfield fans were silent for 90 minutes apart from the goal.
Stadium Overall- 7/10
Thoughts on the game and day.
Great away day in terms of the derby faithful. Great turn out from 2,500 fans. Easy to get to and places to eat and drink not to far from the stadium.
Derby played alright in the second half. They weren't in the game for the first 45. Conor Doyle (sorry to name drop) was a surprise, not a good one, inclusion and was very poor. Second we were unlucky not draw level after Brayford had a goal harshly disallowed.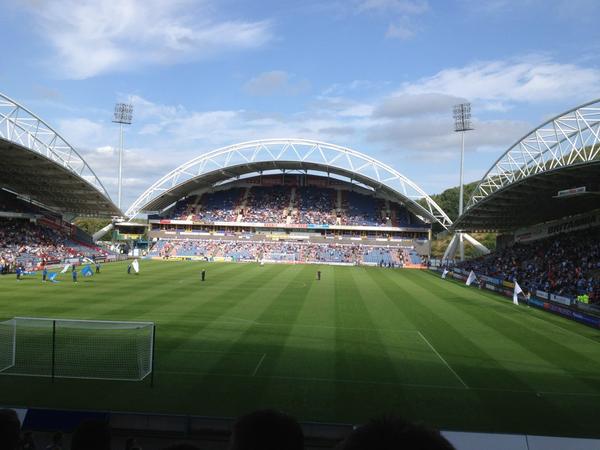 Chloe Sparham was in touch about the away trip.
What did you think to their ground in comparison to Pride Park?
I thought their ground was quite modern but was in a bit of a odd area ,like out of the way. I don't like how all the stands are separate, whereas at Pride Park, the ground is all in one which I think makes the atmosphere louder!
What did you think to the ground's atmosphere?
When they scored the goal, their atmosphere was quite louder but as the match when on they didn't make much noise on the other hand Derby fans including myself made loud atmosphere for most off the game!
And finally, your favourite Derby chant?
My favourite derby chant that day was about the badge man! But overall I love every day chant!
Conor Brown was among the travelling supporters.
Overall Day- 7/10
Derby support- 8/10
Ground atmosphere- 7/10
Stadium overall- 7/10
A good vocal following by the Derby fans, it was very disappointing to concede early on especially when Huddersfield did little to trouble us after that. We had a lot of possession but created little chances and should have perhaps had a penalty in injury time. Our fans never stopped singing and the tributes to Badgeman were very touching. All in all a good day out but disappointed to lose after such an early goal.
Nottingham Forest 0-1 Derby County, City Ground 20/9/2012
Derby beat bitter rivals Forest for the third straight time, midfield engine Craig Bryson bagged Derby's only goal in front of the 4,000 + visiting Derby fans. The game also saw Nottingham Forest striker Dexter Blackstock sent off for elbowing Derby defender Richard Keogh.
Here's what Jacob Anthony thought-
Overall Day- 10/10
Derby support- 9/10
Ground atmosphere- 7/10
Stadium overall- 7/10
Thoughts on the game and day
We weren't great. We played much better against Burnley but didn't get the goods, so it kind of made up for it. Derby fans were class and Forests' were decent up until half time, second half they were dire. Football for the goal was brilliant. Bryson or Keogh were obvious man of the matches. We looked solid at the back (for once) and they didn't create too many chances. Ref was as poor as the game was. Great win and a great day!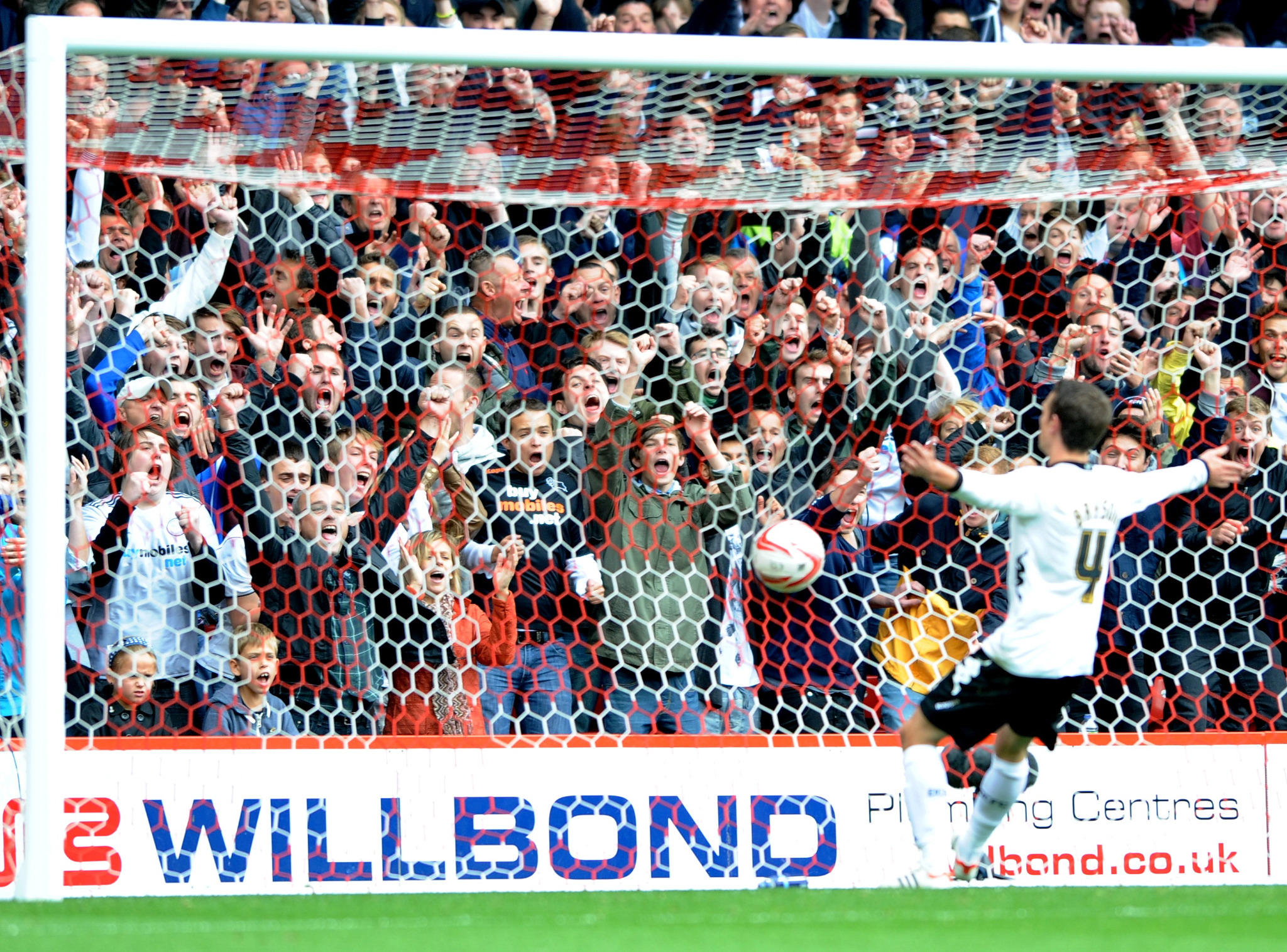 Rams fan Sam Maudlsey also attended.
Your thoughts on their ground?
Not the best ground I've been too, home fans very poor as well. Plus it's not modern enough for me.
Was it a red card?
Yes, definitely. Although it may not have been intentional, Keogh is a tall guy and Blackstock's elbow should not be in his face no matter if he is jumping or not and he also did make contact therefore it's a red.
What did you think to Derby's performance? Very good, Hughes bossed the midfield when he moved to central midfield and Keogh had all Forest players in his pocket, the whole team played well overall.
Alex Rhodes got in touch.
How would you compare their ground to others in this division?
The stadium itself is not that bad, it's just impossible to see from where I was sitting, the crossbar blocked some of the other half of the pitch. Also from how low down the away end is it makes it very difficult to see what is happening at the other end of the pitch. The one thing that really annoys me about the ground is the scoreboard, which are just constantly wishing everyone happy birthday!
How did you celebrate the win?
As I actually live about 1 mile away from the City Ground I enjoyed a nice walk home going through the game with my Dad, then to get home and re-watch some of the game on record so I could tell what happened on the other half of the pitch.
Who was your man of the match?
I would give my man of the match to Brayford, his link up play with Coutts was brilliant, he defended well as well. He didn't let much past him. Ward was very good in the first half but didn't play the full 90 so I couldn't give it to him. Hughes was brilliant in the second half when he moved in to the centre at controlling the tempo and Roberts had another very good steady performance.
Badgeman
I, a long with thousands of Derby fans, was saddened to hear that Rams fan Douglas Else. He was know among supporters as 'Badgeman' for the famous coat packed full of badges he wore to every home and away game. The giant Super Rams flag, along with his coat, was carried around the pitch prior to the home game against Charlton. As well as that, some fans raised their scarves in his honour in the game at Forest on the 6th minute.
RIP BADGEMAN
Twitter- @NMtherams